JiNa OCR
The most accurate OCR Converter
Industry Leading OCR Converter JiNa OCR V 1.5.0 Is now available.
JiNa OCR is a one of the most sophisticated OCR software packages on the market, specifically designed for ease of integration with all of your ocr needs.We're certain that no other OCR software has been put through the same rigorous and innovative development process.
You can download and test it now!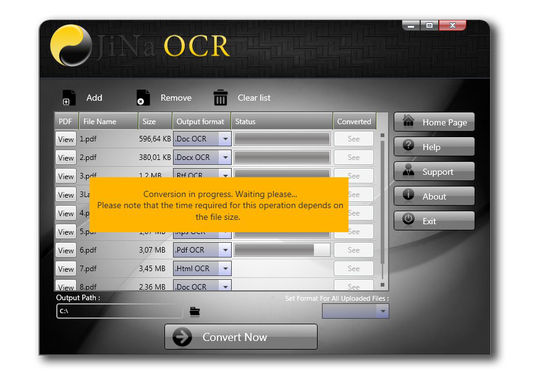 Online Converter Demo
Main features
JiNa OCR that not hang up your system.Failure to recognise characters and words results in a high number of reported errors and can cause some OCR software to crash or hang.
JiNa OCR does not discriminate fonts present in the document to be processed.All of the fonts are kept in the orginal style.This makes it much simpler and quicker for you to process a batch, without fiddling around with different settings.The processed document can be easily formatted to your needs.
There are dozens of things that can interfere with an OCR engine's ability to accurately read a character. From broken letters to underlined text – all of these hurdles are easily processed by JiNa OCR.It's ability to recognise is optimised for maximum character accuracy – saving you time, effort and money in the long run.
From scanned old PDF books to recently taken digital photos,all kinds of formats are supported by JiNa OCR Converter.It supports pdf,jpeg,xls,doc and txt.
JiNa OCR Converter is easy to use.No difficult options to confuse this software with a work that can only be done tech and research experts.Just select and convert,it's that easy!
Why Choose JiNa OCR?

Are all OCR converters created same?

Choosing the right software in a market where each one is claiming to be the fastest and most accurate poses a problem: which is honest and true? They can't all be the best - or is in OCR all softwares are of same capability?

Also an OCR software provider have no defined standards for testing, and no uniform code of measure to follow. This makes it difficult to compare performance statistics between different suppliers. The following may go some way to explaining why there are so many OCR softwares claiming to be the best.

But JiNa OCR stands apart from all of the remaining OCR softwares.We are confident , constantly pushing ourselves to create better and more accurate optical recognition software – enhancing its ability to read almost decimated text.

Our products are developed with accuracy in mind – and in an industry where many of the optical character recognition converters can be unreliable, we're proud to offer a truly reliable, accurate solution.
JiNa OCR's ability to both minimise the number of errors encountered and to efficiently handle those that there are without stalling was a key factor in any leading OCR software.But don't take our words for it.Here are what our clients are saying:


"
I had some screenshot of websites.I needed to use the descriptions on these screenshots to build a site.JiNa OCR made my day.I was amazed at the amount of accuracy by which the software processed the images and produced all the inline texts for my use."

"I always wondered what would it be like to have my old handnotes and typewritten works to use in my classroom.Now I can scan them and convert to doc format,edit them to match present day.I did all these manually before.Now I have more time to prepare for my class.This software is surprisingly accurate"